Are you interested in financing a new HVAC system for your home?
At Atticman Heating and Air Conditioning, Insulation, we offer home HVAC financing with an easy borrowing process so you can purchase the best HVAC systems to keep your home comfortable year-round. Our options make financing HVAC systems easy and affordable, no matter which type of heating and cooling solution you need.
No matter your budget, we offer HVAC financing options in Sacramento, CA, with competitive interest rates. Furthermore, we provide maintenance plans that allow you the freedom to choose the best system for your home without stretching your budget. In addition to Sacramento, we provide special financing and services to the following areas: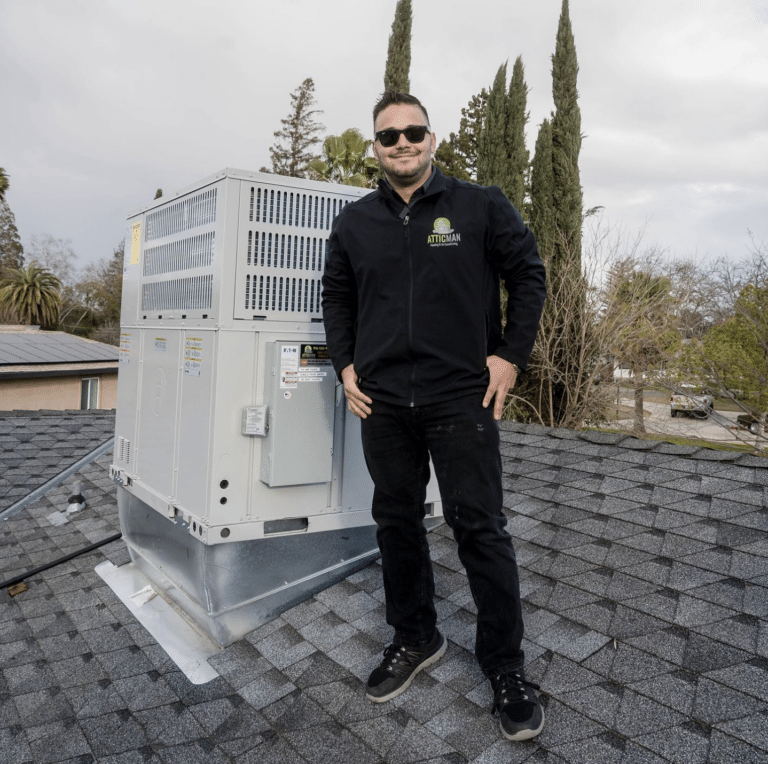 Rancho Cordova, CA
Roseville, CA
Fair Oaks, CA
Orangevale, CA
Folsom, CA
El Dorado Hills, CA
Our cooling system financing provides a range of options for choosing the optimal air conditioning for the warmest months of the year. Your home should provide a protective barrier to the outdoor heat. Installing a new energy-efficient cooling system can optimize your comfort while reducing energy bills. And when the cold air arrives in California, you want to keep your home warm and comfortable. Our excellent heating system financing options can ensure you get the best heat pump, furnace, or boiler for your home.
GoGreen Home Energy Financing
At Atticman Heating and Air Conditioning, Insulation, we are excited to introduce GoGreen Home – a remarkable initiative designed for California residents. As an HVAC company committed to enhancing energy efficiency and comfort in your homes, we understand the challenges posed by the high costs of energy efficiency upgrades. That's why we've partnered with GoGreenHome to provide you with an exceptional opportunity.
Through GoGreen Home, you can now access affordable private market financing that takes the burden out of energy efficiency enhancements. Imagine a world where you can make your home more environmentally friendly and cost-effective without worrying about additional fees or closing costs. With some of the most competitive rates available, we ensure that your investment in energy efficiency delivers real value.
Benefits:
Below-market interest rates and affordable payments
No money down, no closing costs and no lien on your property
Borrowers with a wide range of credit scores may qualify
Use up to 30% of loan amount toward nonenergy improvements
Finance related required upgrades, including electrical panels
Qualifying Measures Include:
Heat Pump Water Heaters
Heat Pump HVACs
Other Efficient Heating & AC
Windows & Cool Roofs
Insulation & Air Sealing
ENERGY STAR Appliances
Wondering how it all works? GoGreen Home, streamlines the financing process for energy retrofits in properties that meet the criteria. To take advantage of this groundbreaking program, your property simply needs to receive electric or natural gas service from leading providers such as Pacific Gas and Electric Company (PG&E®). This means that your journey toward a more energy-efficient future is easier than ever before.
Explore your GoGreen financing options here.
Contact us today for more information!
Synchrony
You don't have to let a small budget keep you from getting what you really want or need. That's why Atticman Heating and Air Conditioning, Insulation offers promotional financing options when your purchase is made with a Home Design credit card issued by Synchrony Bank.
Synchrony Bank is one of the premier consumer financial service companies in the United States with over 80 years of retail heritage, and today is the largest provider of private label credit cards in the United States.
Synchrony Bank can provide you with promotional financing options for major purchases, offering you a budget-friendly way to help you get what you really want or need. Expand your purchasing power and convenience with the options listed below.
Benefits:
A simple application process, and fast credit decisions
Unsecured, revolving credit lines
Open credit line for future purchases
Promotional financing options1
Convenient monthly payment options
Online account management
Applying online is quick, secure and private. To apply for a Home Design credit card, simply complete the online credit application.
1Subject to credit approval. Minimum monthly payments required. See store for details.
Heating
System Financing
When winter arrives in the Sacramento area, many people spend more time indoors to escape the cold. During winter, you need a high-quality heating system that can protect your home from the elements. With our HVAC financing options in Sacramento, CA, you can experience peace of mind knowing your residence has an energy-efficient system that provides maximum comfort.
At Atticman Heating and Air Conditioning, Insulation, we hire the most highly-skilled heating experts to install, maintain, and repair your system. Additionally, our heating system financing options allow you to install a new system that meets industry standards for energy efficiency.
Cooling
System Financing
The Sacramento area can get extremely hot from April to October. With this in mind, you need cost-effective solutions for keeping your home comfortable and boosting air quality. When searching for the best options for financing HVAC systems, our cooling system financing options allow you to install an optimal air conditioning unit at a reasonable price.
Best of all, you'll be saving money on your monthly bills with a dependable air conditioner for your residence. Energy efficiency and costs are a challenge for every homeowner, so purchasing a new HVAC system can save significant money over time.
We offer the best HVAC financing options in Sacramento, CA, and the surrounding areas, including Rancho Cordova, Sacramento, Fair Oaks, Orangevale, Folsom, El Dorado Hills, Elk Grove, and Roseville, CA.
Contact Us to Learn More About Our Financing Options!
If you're searching for the best home HVAC financing options, look no further than Atticman Heating and Air Conditioning, Insulation. Our flexible HVAC financing options in Sacramento, CA, provide a payment plan for any budget.
In addition to excellent financing options, our team of HVAC professionals can install, maintain, and repair your system for the duration of its lifespan. So when you need top-quality service for your HVAC system, you can rely on us to keep your system working efficiently. So if you're ready to provide the best solution for your home's heating and cooling needs, contact us to schedule an appointment today!